Ok... Our thermostat for the central heating system is broken and I tried considering an intelligent replacement for it. There's quite a few options, some with both inside and outside temperature sensors, some with a learning clock, some are actually very nifty and provide an App on your iPhone or Android phone to change the settings.
They all have one thing in common, they're crazy expensive. Even a simple timer based thermostat starts around 75 euro. And they all have a very user unfriendly crappy 20-button based interface (slight exaggeration). From all the ones available out there I like Nest best, but that one isn't available in Europe (and has quite a few issues if used in Europe, so importing it isn't an option)
Apart from being expensive, the option available from our local energy companies all have their own issues: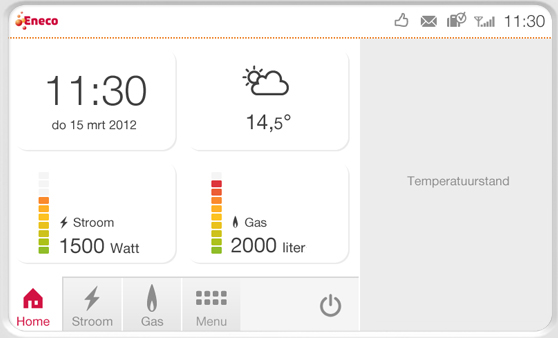 Eneco Toon
Eneco offers this thermostat for free with a 3 year contract for fixed price gas and electricity. There is an additional 3.5 euro monthly fee to read the historical information. It does not come with an App for iOS, Android or Windows Phone. You need to install 2 optical readers which measure actual energy usage from the gas and electricity meters.
Beautiful user interface, touch based
Great scheduling system with clear indication of which program to follow
Can show trends of energy usage over time base don actual usage
|
No app to change the settings or view data remotely.
Requires monthly fee for historical data.
No open API to allow programability
Privacy issues with publishing your usage data
|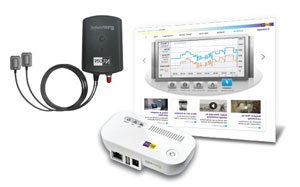 Nuon E-Manager
NUON offers a different product, by default it is used to visualize usage and to control electrical appliances around the house using simple domotica. The system consists of a wall mounted console which is used to display the historical energy usage and to control you appliances. If you want to control the in-house temperature, you need to add an additional remote controlled thermostat. Again, the system (excl thermostat) is free on a 3 year contract and again, there is an additional monthly fee to see historical data. The NUON E-Manager does have a remote control App for Android and iOS. The underlying system is built by GreenWave.
Nice user interface
App enabled, with remote thermostat control available
Can show trends of energy usage over time base don actual usage
|
Requires monthly fee for historical data.
No open API to allow programability
Privacy issues with publishing your usage data
|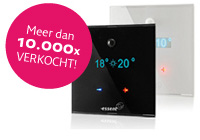 Essent E-Thermostaat
Essent offers yet another system, the e-thermostat. It doesn't visualize energy usage, but it does provide an app and a simple web interface to configure your timed programs. It has a light and movement sensor which is used to turn down the heat when nobody is at home. Recently they added the ability to plot the temperature changes in your home, but I find that the least useful information they could present me with. It's relatively cheap and doesn't come with a monthly fee, which I find a great plus.
Simple to use interface
Light and Movement sensor
App enabled, with remote thermostat control available
No monthly fee
|
No open API to allow programability
No insights in power or gas usage
Privacy issues with publishing your temperature data
|
Now what...
None of these live up to my expectations. I'll grant you that I'm of the nerdy type so my expectation might be high, but if I'm going to pay more than 200 euro for a new thermostat, it must be cool (no pun intended). So what do I want...
Scheduling
Simple scheduling is a must, but I'd like more advanced stuff as well. Check my calendar for meetings and don't turn on in those cases, and make use of the fact that my and my wife's smartphone are connected to wifi to detect we came home early or unexpected. Those kinds of things.
Sensors
Use sudden changes in outside temperature, motion sensors, light sensors and other cool features to anticipate and intelligently turn the heat on or off. Those usage counters that sit on your power and gas meter are quite nice as well, but they offer insight in usage, they don't provide much comfort. And they can easily be replaced with intelligent power sockets that communicate over wifi... It might even dial into the local whether services to pick up coming or going rain storms or other events that might influence the temperature in any way.
Learning
I like the self-learning features of the Nest a lot. even though I can create my own schedule and do something intelligent, it's always nice if it can propose improvements to our schedule.
Programmability
And of course, nerd as I am, I want to be able to interfere in the system. Use Tasker and my favorite alarm clock, Gentle Alarm, to turn the heat on just before I wake. Combined with a couple of domotica systems, this could turn the TV and my PC completely off at night as well.
Remote Control
The programmability would enable phone apps or a simple website to connect to my home system and control the room temperature from the comfort of my couch.
I'm not sure if I'd change my behavior a lot if I can see what's using my power. Shall I shower shorter if I know how much is costs? Or might I be able to use the generated heat to increase the room temperature in my living room to a nicer temperature for breakfast? I think the latter is more interesting than the first.
I think I'll build my own... I'll keep you guys posted on my project. In the mean time I'll buy an old second hand thermostat from ebay/marktplaats for 20 euro. At least I now know I don't have to invest in a very expensive thermostat... yet.